There are many artisans on the web that create jewelry and bath and beauty products and paintings have been considered art for a very long time. However, there are also many artisans who create hand made items you would never think of as a craft or hobby. Jen of Jen's Pens is one of those artisans. So I thought it would be interesting to ask her a few questions and see what kind of replies I would get.
Question: What is the average length of time that it takes you to make a wooden pen also an acrylic pen?
Answer: It takes about a half hour for a wood pen depending on how dense the wood is. For an acrylic pen, it takes about an hour. It is much harder and also more fragile.
Question: Please list any special techniques you employ and explain them just a bit.
Answer: There is really nothing special to it. It is just very important to go slow and steady to prevent the blank from breaking.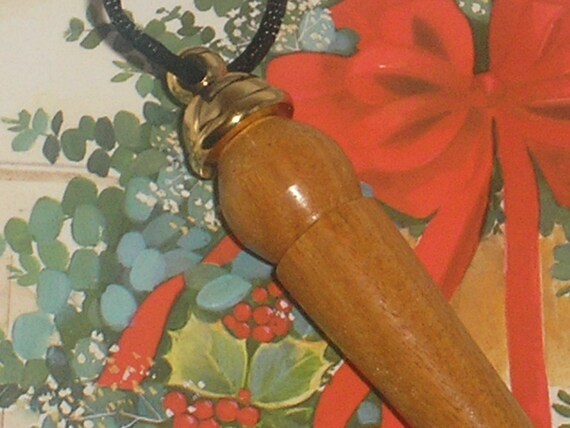 Ever heard of canary wood?
Question: How long have you been doing your craft?
Answer: I have been doing this for about 5 years.
Question: How long have you been selling on the internet?
Answer: I opened my shop in June 2008
Question: Where do you get your ideas for new items from?
Answer: Most of my ideas come as I am working on the piece. I do look at other artists work and then put my own twist to it to make it my own.
Question: Which tools do you use and please give a brief explanation of their use.
Answer: I mostly use a gouge for taking away most of the material, then I use a skew chisel to make the designs and do the final touches.
Question: How did you learn your craft?
Answer: I mostly taught myself. I purchased my first lathe at an auction and practiced until I knew it was something I could do. I then got a new lathe and studied different videos and tv shows that showed how to do different things on the lathe and mimicked that.
Question: What different types of wood do you work with?
Answer: I use as many different kinds as I can. I like to use domestic and exotic woods. My favorite is Cocobolo.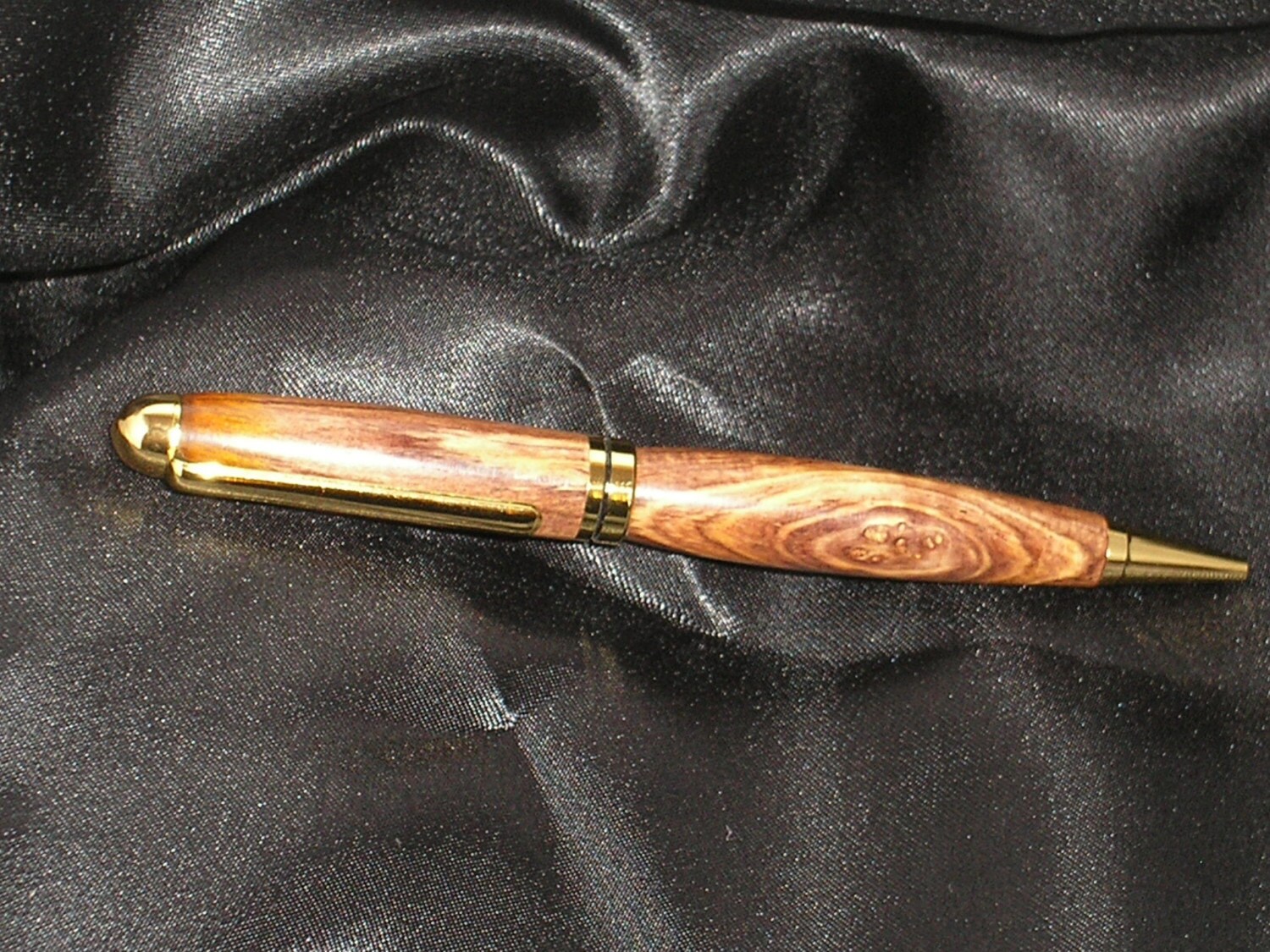 Jen's favorite wood
Question: What is working with acrylic like?
A
nswer: It is challenging, but very rewarding. There are so many different colors and designs to use. But it can also be very frustrating in that it can break very easily if you are not careful. But I love working with it and making it shine!!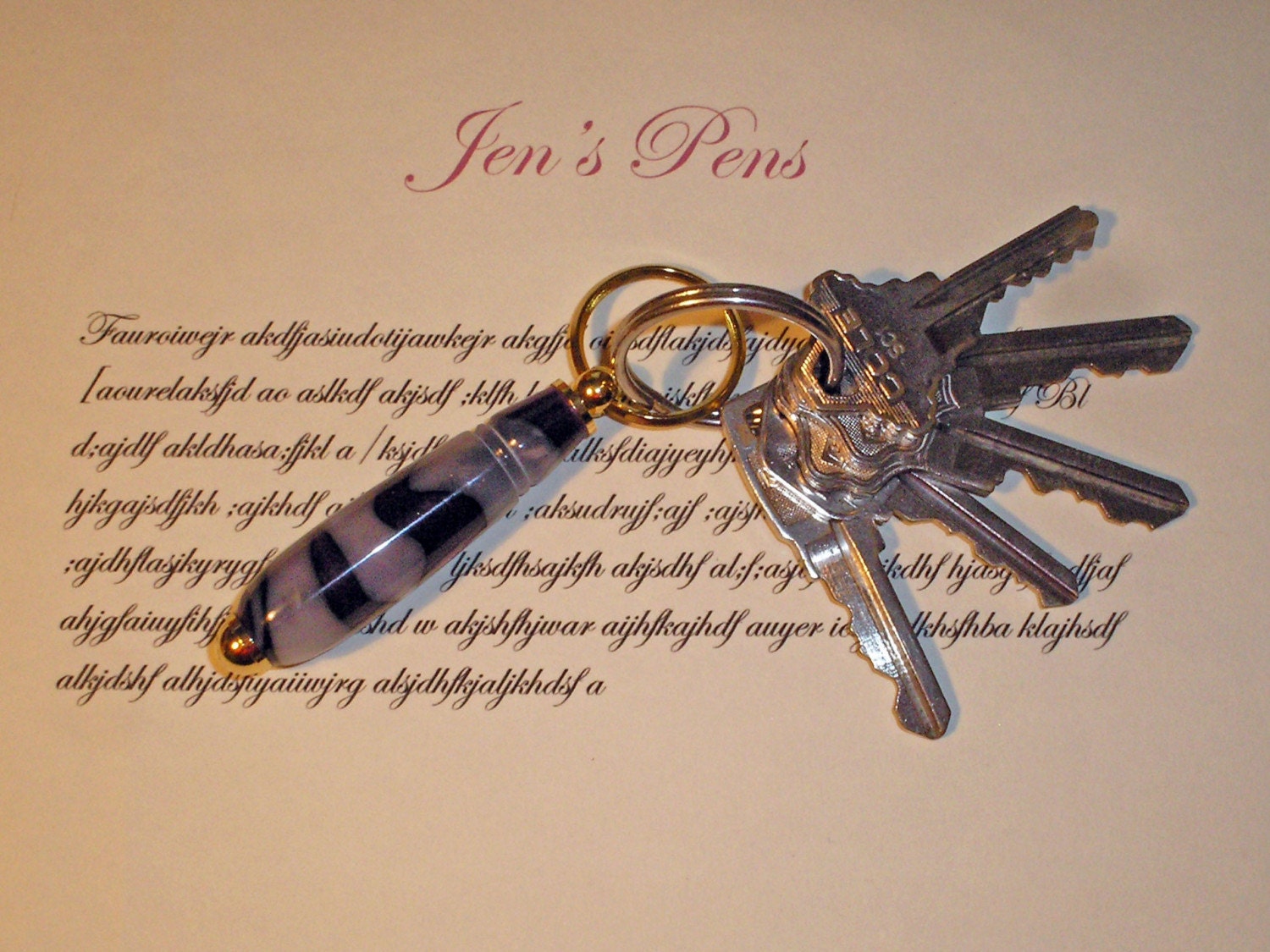 Acrylic key chain
Question: Do you buy it in sheets? Do you need to add color to the acrylic or does it come in various
colors and designs?
Answer: The blanks that I buy come in about 1 inch blocks that are about 6 to 8 inches long. So I start out with a square and end up with a beautiful round pen! I buy them in the colors they end up in, but I plan to start making my own blanks sometime in the future!
Question: Do you have any plans to expand your shop or new items in mind?
Answer: I have done a few different things as gifts for my family that I would like to add to my shop in the near future. I do plan to expand once I have mastered the different techniques it takes to create something new. And I am always looking for suggestions!
You can find Jen's Pen at Etsy